From our cellar
to your table
Cuvée Royale Brut Nature
An extra-pure, sugar-free and very expressive champagne! We chose the exceptionally fresh 2013 vintage and aged it for 72 months to produce roundness, power and perfect balance.
Cuvée Royale Brut
The classic expression of the House style … Joseph Perrier became known from 1825 thanks to this style of Champagne. Our champagne has been part of history many times and was chosen for the royal courts of both Queen Victoria and Edward VII.
Cuvée Royale Brut – Limited edition
This case has been created, in limited edition, to enhance the Cuvée Royale Brut. His subtle and playful play of the letters composing Joseph Perrier, some of which gold, makes it a unique object to collect. The case is FSC certified from responsible sources.
Cuvée Royale Blanc de Blancs
This cuvee shows the influence of the house style of Joseph Perrier on the Chardonnay in Champagne, concentrating on the fresh elegant and lively elements yet with richness. One of the emblematic cuvée of the House, particularly appreciated by initiated enthusiast.
Cuvée Royale Brut Rosé
This cuvée is a blend of Chardonnay, Pinot Meunier and Pinot Noir vinified as red wine. With this well-structured vinous centre combined with fruity and fresh notes, this Champagne will enhance the aperitif but also a dish of wild salmon or dessert.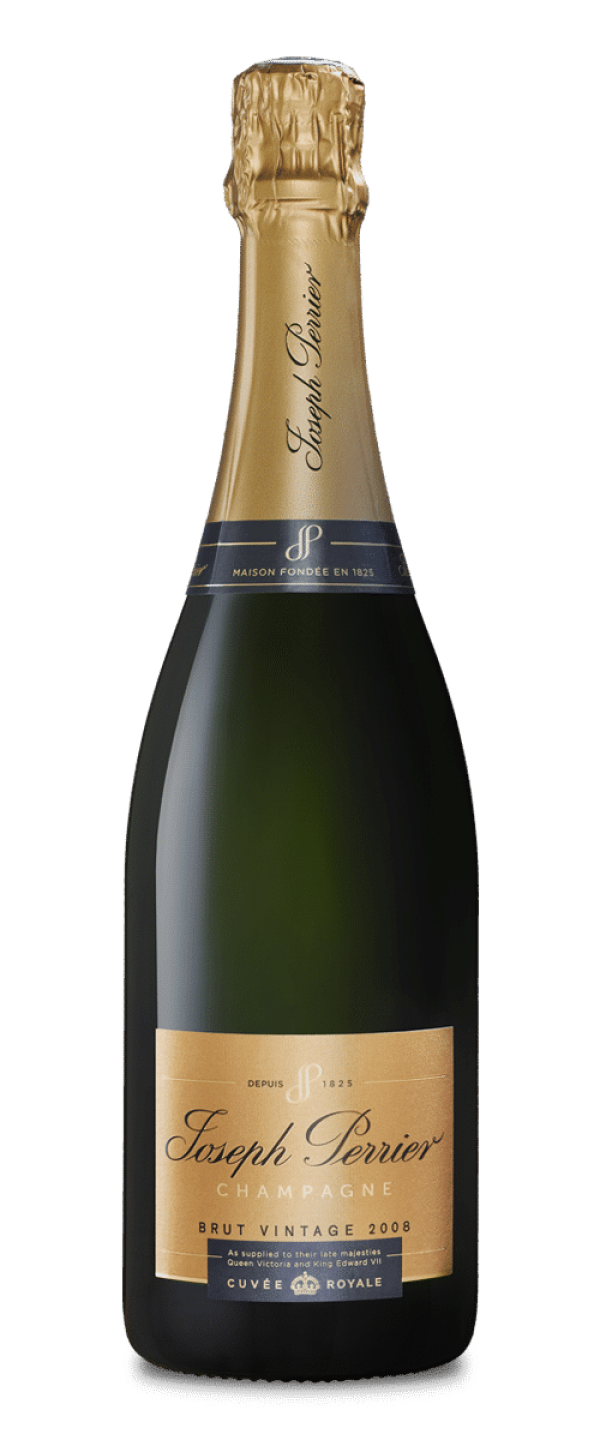 Cuvée Royale Brut 2008
The 2008 vintage is one of the most balanced of the decade. This wine reflects the experience of the House in putting together a champagne of such style, it is particularly well balanced, with great depth. Its simply invites celebration.
Parcellaire Blanc de Noirs 2011 Brut Nature
Limited release. 100% pinot noir from the single vineyard called 'La Côte à Bras' in the Premier Cru village of Cumières, vintage 2011, brut nature (0 gr/l). This gastronomic cuvée seduces Champagne enthusiasts. Disgorging in small lots.
Cuvée Royale Demi-Sec
As a development of the original style of Champagne, this cuvée shows great generosity and its suitability for the end of a meal. Perfect to accompany pies or chocolate cakes. Which royal dinner did not end with a glass of Demi-Sec?
Esprit de Victoria Blanc de Blancs 2010
The cuvée Blanc de Blancs 2010, extra brut, is composed of 100% Chardonnay sourced from Grand Cru et Premier Cru vineyards. The cellar work is all done by hand: pointage, remuage… The House has reissued an old flat-bottomed bottle for this Esprit de Victoria cuvée.
Esprit de Victoria Rosé 2010
Powerful, rich and harmonious, this elegant cuvée Esprit de Victoria Brut Rosé Vintage 2010 is ideal for lovers of Champagne rosé. This great wine combines the art of blending and the rigorous selection of an exceptional year.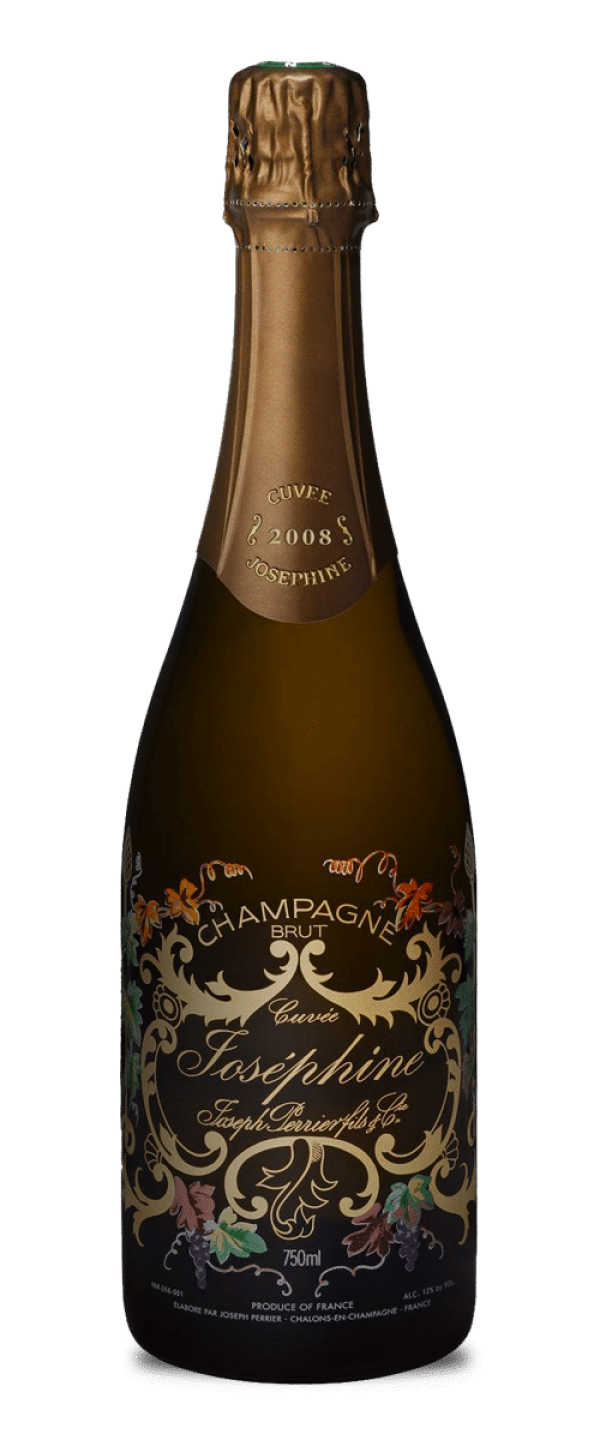 Joséphine 2008
Têtes de cuvée of the House, the Champagne Joséphine celebrates the touching story of a father who, on the occasion of the wedding of his daughter Josephine, offered her the best Champagne, in the most beautiful hand painted bottle decorated with fine gold.
Our boxes & objects
Gift voucher – Visit of the cellars
Treat yourself with an original gift! Offer a gift voucher to your loved ones to visit the Gallo-Roman cellars of the JOSEPH PERRIER family Champagne House during a visit-tasting.
Cuvée Royale Offer
Want to discover all of our range Cuvée Royale?
This offer including 14 bottles of Cuvée Royale Brut, 1 Cuvée Royale Brut Nature, 1 Cuvée Royale Blanc de Blancs, 1 Cuvée Royale Rosé and 1 Cuvée Royale Brut 2008 at the price of 18 bottles Cuvée Royale Brut.
Joséphine 2008 giftbox
The giftbox includes a bottle of Cuvée Joséphine 2008 and two hand-blown, lead-free crystal glasses, specially designed for the House's iconic cuvée. These are the ideal glasses to enjoy our Champagne in the best conditions.
Flask isotherm Joseph Perrier
This isothermal flask made in partnership with the Qwetch brand is personalized with the effigy of the House. It ideally keeps your drinks hot for 12 hours and cold for 24 hours. Capacity: 500ml.
Joseph Perrier Candle
Desire of evasion?
An olfactory journey through the vines with our vegetable wax candle.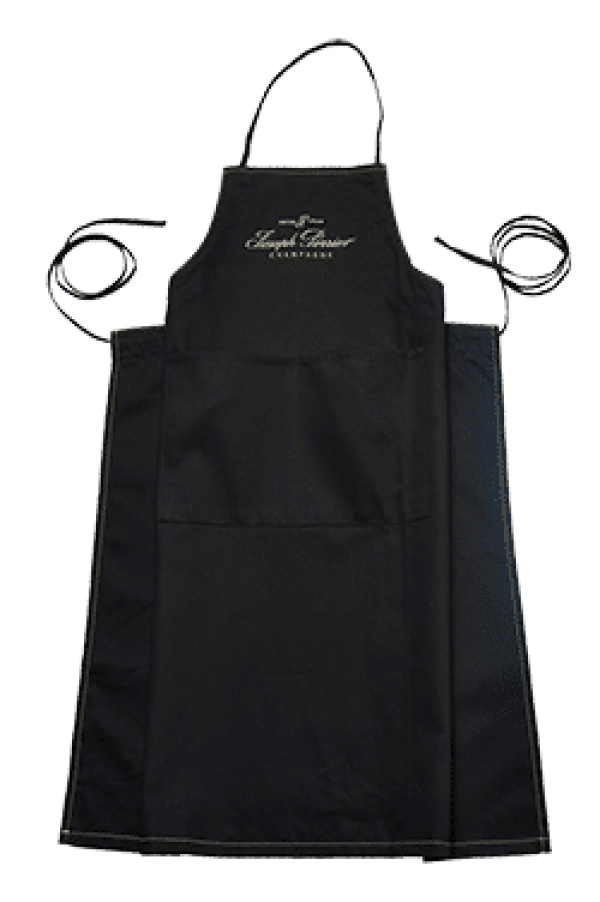 Embroidered wine sommelier's apron
A Joseph Perrier embroidered apron to fit all sizes. Perfectly adjustable, it allows to uncork a bottle of Champagne or to cook without risk of staining. Black colour. Hard-wearing, machine washable (30 degree).
Champagne decanter
The hand-blown, lead-free decanter was designed to sublime our Champagne. It is ideal for our Cuvée Blanc de Noirs and all our vintage champagnes. Delicately and discreetly engraved with the House's emblem. Dishwasher and refridgerator proof.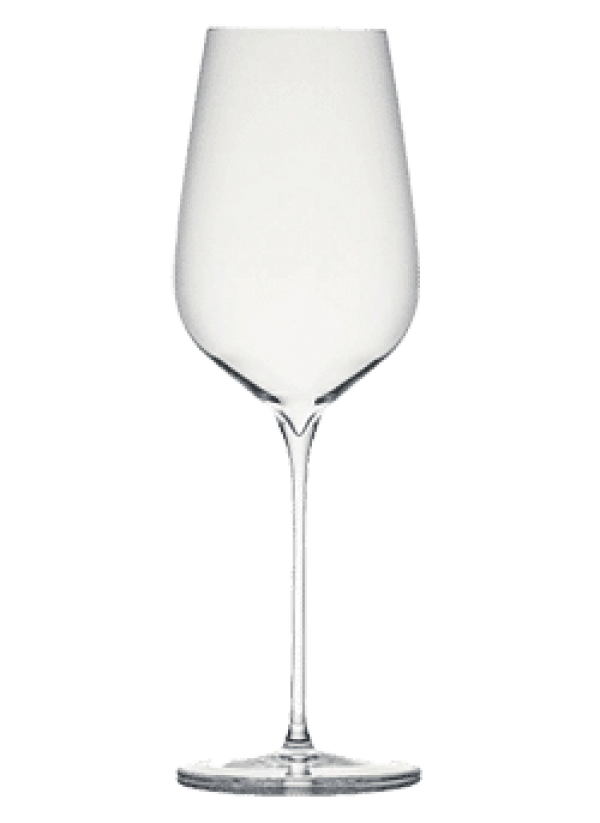 6 x 35cl flutes
6 hand-blown, lead-free flutes to enjoy our champagnes in the best conditions, the vintage ones and Cuvée Joséphine in particular. Delicately and discreetly engraved with the House's emblem. Dishwasher proof. Sold by 6.
6 tasting flutes 16 cl
6 tasting flutes (16cl) of the Lehmann brand, engraved with the effigy of the House. The pricked bottom of these glasses highlights the fine bubbles of Champagne. Machine washable. Sold in a box of 6.
Any question ?
Please contact us at
+33(0) 3 26 68 29 51
Deliveries
48 to 72 hours in France (excluding overseas territories).
Anti-breakage guarantee
Order in peace of mind.
Good conservation quality
Optimal hydrometry and temperature